We are on Day 11 of the New York City school bus strike and I have had it with ALL parties involved. Every time the mayor is asked about it on the news, he seems apathetic and out of touch. Every time I see union drivers and matrons walking the picket line, I am finding it harder to sympathize.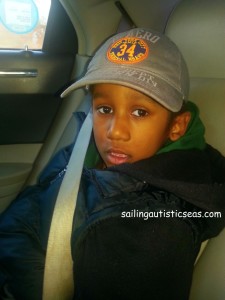 Angel has only been to school TWICE since the strike began. Today is his second day. I spoke to his teacher and told her we can only manage two days a week. This has been a juggling act. We are working parents. So we chose the days that he has therapy. I really wish that there was an appropriate school for him that was closer to home. Angel can barely handle a 40-minute subway ride. I knew he would not be able to manage a two-hour commute via public transportation during rush hour.
Now, I faced the challenge of finding a car service that would charge a reasonable fare from the Bronx to Brooklyn. I had to find one that took credit cards. I had to find one that would not try to extort me because I was using my credit card. Then there is Angel's behavior in the cab. He constantly tries to open the door while we are driving, kicks the back of the seat, and gets very anxious when we are caught in traffic. I do not blame him. His routine has been interrupted.
The Department of Education (DOE) has posted all these wonderful alternatives to get our kids to school. They even have vouchers for low income families, so they won't have to pay out of pocket. So what's the big deal you ask? My family does not qualify for these vouchers. Apparently, we are not low income enough. Angel has transportation on his IEP. He is entitled to specialized transportation to receive his Free and Appropriate Education. These are legally-binding contracts. All parents should be given these vouchers.The DOE states that they will reimburse parents for travel expenses but they are not taking finance charges into account.
When I heard that the Mayor turned down the union's offer to end the strike if the city can delay bids for new contracts, my blood boiled.  The city responded that doing this will keep the same billion dollar contracts that are in place now for next year. Blah, blah blah! Enough already.
To top it all off, I called a car service in my neighborhood last night to reserve service for this morning. I confirmed the time and price. All was well. This morning I get in the cab and confirm the price again. The driver starts to tell me that the quoted amount is not enough. I have to pay $12 extra because I am using my credit card. I told him I paid $72 on Tuesday and ask how he can charge me more for the same service I had before. I ended up calling dispatch. Now we are all in a big argument.
The dispatcher said I can pay the $72 today but next time it will be more. We hang up and the driver starts raging about how he will have to pay the extra from his pocket because I am using a credit card. Then he asks if he can take me to an ATM and I pay $70 since that is the base charge. I did not even respond.
Once we are in Brooklyn, he asks me if I want to go to an ATM, I tell him which one. When we get there, I take Angel out of the cab and we go in to get his money. In a few minutes, we arrive at Angel's school and I tell the driver that I need a receipt. He writes it up. I gave him his money and we promptly get out. I do not thank him. I do not tip him. I can't even slam the door the way I want to because I am holding too much stuff and trying to make sure Angel does not bolt into the street. During this time, Angel starts crying. He cries until his teacher comes and I kiss him good bye.
It is too early for my child to be this upset. It is too early for me to be this upset. I wonder how much more of this I can take. I am scared that Angel will regress.
How much more cake do I have to eat before I snap?
Are you affected by the NYC school bus strike? How is your child coping with the change in routine? How are you coping? Please share your story below and click here to sign my petition to end the school bus strike. Thank you.

Sincerely,
Miz Kp