Homework time is always an adventure around here.
A typical school night goes like this:
Me: "Angel time for homework."
Angel: "Nooooooooooooooooooooooooooo! Good Night!"
Me: "Time for homework Angel."
Angel: "Good Night."
Then he runs over to his table, grabs his homework binder, and tries to hide it in plain sight. Sometimes he opens it, flips through the pages and tells me "The End." 
We go through this every school night. Last month, Angel's teacher wrote a note explaining how homework will go this year and how it should take 10 to 20 minutes. Ha! Not in our household. One homework session can last anywhere from 45 minutes to an hour with about five to six sensory breaks in between. Yep my son loves to take a break. After every page of homework he tells me, "Break please!"
We also use a token board that his teacher made for him. He loves working for his iPad and gold stars. I also have to have a big bowl of grapes or pretzels nearby. His new form of mischief is to grab and eat a handful of grapes before he has earned them. Never a dull moment. This year his homework binder comes with a schedule for the week that includes Reading (ELA), Math, and Handwriting assignments.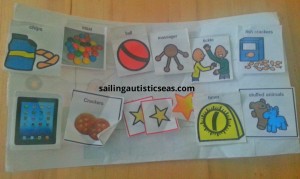 The Good
Angel is doing really well with recognizing sight words. Not just on index cards but in sentences. This also helps him to read some short sentences depending on the recognized sight words present. He is also counting his numbers and now he is learning the concept of number lines and counting forward and backward.
The Challenging
Handwriting is our major challenge. Sometimes Angel writes so big that two letters can take up the whole page. If he has to trace, he does okay and most times it is legible. Other times he will scribble away or half form the letters. I had to end up asking his teacher to please send tracing pages home because most of his free form handwriting was done with us doing hand-over-hand. She replied that she wants him to learn to imitate words in handwriting and that I can write the words in highlighter and have him write over it. He is managing with this method…sometimes.
I spoke to Angel's occupational therapist this morning and she told me that handwriting begins with posture and the shoulders. Angel needs to build strength in those areas and his overall core before he can master handwriting. She also added that if the big muscles are not stable, the little muscles will be affected. Motor planning is an issue for Angel and this also affects his ability to write legibly. She will be sending some floor game ideas and other activities we can do to help him build his core. Here I was thinking I had to get him a bunch of tracing paper.
We will see how it goes.
Does your child get homework? What tips and strategies can you share? I look forward to hearing from you.
Sincerely,
Miz Kp
Comments
comments