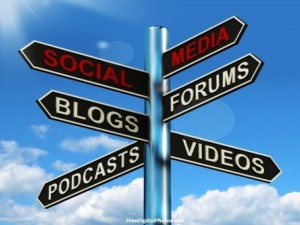 This past Wednesday, Angel's dad shared his thoughts on the importance of having a support system. Today, I want to expand on that and explore how social media Web sites can provide support and be a valuable resource for special-needs families.
Parents are logging onto social media Web sites in droves to reach out to other parents for information, to share information, and at times to vent. Here are some ways that parents of children with special needs are using social media:
Support
Parents can post a status on Facebook about a milestone their child reached or about a bad day they are having. We can tweet something that may seem mundane but someone may find it interesting and worth celebrating. Some of us may blog about a topic we are passionate about or share a story about our child that could end up resonating with another parent. We do these things knowing that somewhere out there another parent will get it, celebrate with us, and even empathize.
More Support
Just knowing that someone is going through something similar can be helpful, especially when a parent may not be getting much support at home. Social media allows parents of older and younger children with special needs to interact and learn from each other. Parents can also interact with and learn from adults with various disabilities, including autism. This has been a unique experience for me because I do not personally know any adults on the autism spectrum.
We show support in other ways as well. When a child with autism goes missing, we spread the word like wildfire, praying that someone somewhere has seen that child. When that child is found, we rejoice and breathe a sigh of relief. When a celebrity like 50 Cent or a media personality like Joe Scarborough  makes disparaging and unfounded remarks about people with autism we come together and fire back with an intensity rarely seen in other demographics. Like any family, we may have disagreements about a certain issue or topic but this is to be expected when you have so many passionate people sharing their views.
Research
Social media can give parents an outlet to research information on where to find a medical professional or therapist for their child. Parents can ask questions about a specific treatment or intervention and share news articles on findings from researchers regarding autism and other disabilities. Parents can also get first-hand information from other parents on a variety of topics regarding raising a child with special needs. Parent can also use social media get the most recent information on trainings, conferences, and events.
Networking
Many parents use social media to network. We can interact directly with various specialists, therapists, and professionals and get insight into our children's behavior and how to improve their lives. The value of networking through social media has been very beneficial for me and I am sure that other parents can relate.
Advocacy
Parents like me use social media to advocate for our children and the special-needs community. We share petitions, champion causes, and even fund raise. Some of us use social media to interact with elected officials and give our opinions on a specific legislation that can affect or is affecting the disability community. Even if it is an aide in my senator's office responding, at least I know somebody read my thoughts on a pressing issue. Parents can interact with various nonprofit organizations through social media and propose ideas for new projects that can help their children.
Fun
Yes, parents of children with special needs like to have fun, too. Sometimes we love to meet others online and chat back and forth about stuff other than our children and their diagnoses. We love them but sometimes we need to unwind. Sometimes we share silly stories that may not be life altering or informative but we know that someone out there read it and thought it was interesting. Even if no one found it interesting, we are okay living with the illusion that it was and that is just fine.
So how do you use social media? How has it helped you as a parent of a child with special needs? If you haven't used social media in the ways that I have described, I implore you to start now.
 Sincerely,
Miz Kp