Angel turned five-years old this past Sunday. In celebration of this milestone, I want to share some of his strengths with you. This is my effort to remove the focus (if only for a day) from what Angel has to learn to do and what he can not do…yet.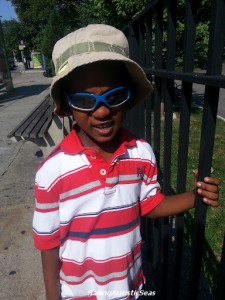 So here we go:
Angel
is affectionate. (We can't get enough of his spontaneous kisses.)
can follow simple commands. (It may take repetition but he can do it.)
can memorize lyrics and melodies  to children's songs he enjoys. (Some call it scripting. I call it memorizing.)
enjoys labeling objects, such as letters, numbers, and animals.
is very agile. (He can use a gallon bottle of oil as leverage to climb on top of the freezer to get what he wants. This Olympic-worthy skill could lead to something. You never know.)
is determined.
is a problem-solver.
uses the three-word sentence I want ______.  to make requests.
uses the bathroom to go "number one" with prompting.
has a healthful appetite. (He absolutely loves spinach, fruits,
broccoli, and popcorn.)
likes to complete simple puzzles.
loves flowers and plants.
likes to play outdoors, especially on the slide.
When we started our journey, Angel could not do a lot of the things on this list. We are grateful for everything he has accomplished and we look forward to him reaching many more milestones in the future.
Happy 5th Birthday, Angel!!!
I am proud to say that our son is conquering autism one milestone at a time.
Please share some of your child's strengths. Let's celebrate them all. I look forward to hearing from you.
Sincerely,
Miz Kp