I did not anticipate having to put on my "advocate cape" so early in the school year. You would wear one too if your child had to endure a three-hour bus ride home from school day after day.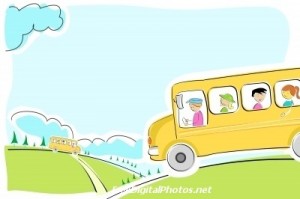 When we enrolled Angel in a school located in another borough, we were a bit uneasy about his commute. However, there were other things to consider as well.
In an effort to seek an appropriate education for Angel we had to find a school with four things:
an appropriate teaching methodology (Angel needs ABA.)
an appropriate environment (including being safe)
an appropriate class ratio
related services at the mandated-weekly frequency
Initially, we were sent to register at a community school in our neighborhood, thanks to special education reform. It was not appropriate.
After three visits, I was told that they could not provide the services that Angel needed at the frequency that he needed them.
Next, we were offered a placement in our borough at a public school but it was simply not appropriate. The metal detector at the building entrance was certainly not a plus.
After a reconvene with the Committee on Special Education (CSE) and a subsequent deferral to the Central Base Support Team (CBST), Angel was approved for placement at a funded non-public school outside of our home borough.
Now that you have some background information on how we got here, let me get to the issue we were facing.
On the evening of the first day of school, our anxiety levels increased once the clock passed 4:30pm. We were all a mess and frantic with worry. We were all calling the bus company. No answer. Finally, we called Angel's school and we were told to call the Office of Pupil Transportation (OPT).
Our call to OPT got us the "these things take time" and "wait and see" lines from several customer service representatives. We also got a complaint number. Woo hoo! We did this everyday until I was advised by another parent of a child with autism to e-mail the director of OPT in our borough.
When Angel arrived home at 5:39pm on Monday, I was at my breaking point. Even the bus driver was encouraging me to make calls because there was a child on Angel's bus who was adding a significant amount of time to his commute. This is certainly not the child's fault but certainly the result of poor planning on the part of OPT.
I spent Monday night drafting my e-mail and sent it out at 8:40am Tuesday morning. Within an hour, I got a response from our borough's OPT director and an apology. My e-mail was also forwarded to the director of the borough where Angel's school is located and the bus router.
I must say I was impressed with how quickly they responded to me. Finally, the router called and the issue had been taken care off. The child who had been adding a significant amount of time to Angel's bus ride was transferred to another bus. The router also assured me that they are monitoring the situation. This took a little under three hours!!!  I made sure to e-mail everyone who helped us and tell them thank you.
Angel has arrived home within 90 minutes everyday, since this issue has been resolved. Yes, this is still a long commute but way better than 180 minutes. I know many parents of children with special needs who have similar commutes.
We re-submitted our request for limited travel time to get Angel less time on the bus within reason given the distance. This happened at the same time that I was trying to get his route changed. We had to re-submit because our request was rejected during the "Turning 5" process earlier this year.
Now, I am being told that we will have to file for an impartial hearing and have a judge rule on if Angel can get limited time. We are weighing our options and observing how Angel handles the commute as it stands. In other words, we are picking our battles. We will certainly make a decision that takes Angel's well being and safety into account.
Until the NYC Department of Education can invest in more appropriate schools in ALL boroughs, our children will continue to endure long bus rides between Westchester, Long Island, Manhattan, Brooklyn, Queens and the Bronx to receive a Free Appropriate Public Education.
This squeaky wheel did get the grease and Angel can always be assured that we will fight for him even if we have to break the chain of command to get things done.
Are you still having busing issues? My blog pal over at Autism Wonderland has also shared her experience and included information on who to contact if you are having transportation issues.
Please share your back to school experience. I look forward to hearing from you.
Sincerely,
Miz Kp
Comments
comments