Yesterday's Trivia Question was: Who developed and has a trademark on the term "social stories"?
Answer: Carol Gray
For more information on how social stories can help a child on the autism spectrum click here.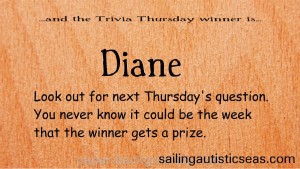 Congratulations Diane!!
Thanks to everyone for taking part. Look out for next Thursday's question. You never know, it could be the week that the winner gets a prize.
Have a great weekend.
Sincerely,
Miz Kp