Every Thursday, I will ask a trivia question. The questions will fall under developmental disabilities, special needs parenting, special education, etc.
Any week could be a prize week for the person who answers correctly. You never know when a prize will be awarded, so please play EVERY Thursday.
Today's Question: What Greek word does the word autism come from?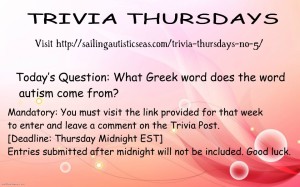 Now on to the rules:
1.    Mandatory: You must visit the link provided for that week to enter and leave a comment on the Trivia Post.
For additional chances to win:
2.    Leave your answer in the comments on Facebook and Like us at https://www.facebook.com/autisticseas
3.    Tweet your answer and follow us on Twitter at https://twitter.com/autisticseas with the hashtag  #SAStriviathursdays.
I will assign a number to each entry with the correct answer and the winner will be chosen by random.org's random number generator.
The winner will be announced on Friday morning and if a particular week is a prize week, then the winner will be notified of his/her prize.
The last entry will be accepted at midnight EST on Thursday.
Feel free to message me if you have any questions and please spread the word. Thank you.
Sincerely,
Miz Kp