Do you know what happens after you put your child on the school bus in the morning? If you are a parent of a "typical" child, then maybe he or she gave you the complete run down later that day. If you are a parent of a child with special needs, then there is a chance that you have no idea what happens on the bus or at school. The reason is not because your child does not want to tell you but because your child does not have the words to tell you. Pause and think about this for a minute.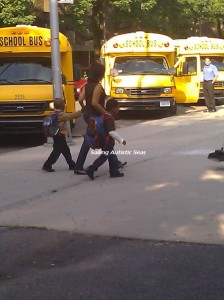 As parents of children with special needs, we have to have 100% trust in the school staff  hired to care for them. We have to trust that when we put them on the school bus they are kept safe. We have to trust that they had a productive day at school working on their Individual Education Program (IEP) goals.
We send our children to school to be educated, supported, and nurtured. We do not send them to school to be bullied and abused. Some of our children are non verbal. Some of them have behavioral challenges. Some have sensory integration issues and some are just trying to make it through the school day.

As more cases of abuse toward special needs children make the news, I am realizing that they are all at risk. Stuart Chaifetz, from New Jersey, had to resort to having his son Aikan wear a wire to school to find out why his behavior had changed. Veronica Droz, from New York, had to put a tape recorder in her daughter Tori's book bag to find out what was happening to her on the school bus. A staff member at P.S. 197 in New York called the NYPD because a 5-year old boy  had a tantrum.
All of these children are on the autism spectrum. All of them were subjected to situations where the people trusted to take care of them were mistreating them or overreacting to their behavior.
I am convinced that some of these teachers and aides are not mentally and emotionally equipped to handle the unique needs of our children. This problem is not going away. It is worse than we think.
I know there are some wonderful special education teachers out there. Ones who genuinely love and care for their students. We desperately need more of them. We certainly do not need the ones who abuse, disrespect, and take advantage of our children.
A *parent recently told me that her daughter's 1:1 paraprofessional or aide begged her to make sure that her daughter had a 1:1 when she went to her new school in the fall. The aide added that children who need a 1:1 and do not receive one are mistreated. The aide also told the parent that she has reported several of her colleagues because they were mistreating children.  When I heard this story, a knot formed in my throat. Angel also has a 1:1 at his current school and will be transitioning to Kindergarten in the fall.
What will it take to protect my child and yours?  Are we going to have to demand that cameras be installed on ALL school buses and in EVERY special education classroom?
Please allow me to share my Call to Action with you. I believe that each one will bring us closer to solving this chronic problem:
Every child with special needs has to have a Behavioral Intervention Plan (BIP) included on their IEP. Everyone in the school including therapists and aides have to follow and be aware of this plan.
Special education teachers, aides, and school bus matrons must undergo sensitivity training at least once a month.
Special education teachers and aides have to be fully educated about the diagnoses of every child in their classroom. We cannot have adults working with children on the autism spectrum when they do not fully understand what autism is.
Parents must maintain open lines of communication with their children's teachers, therapists, and aides.
Cameras must be installed in all special education classrooms and on school buses.
Contact your New York State legislators and urge them to support Governor Cuomo's proposed Justice Center for the Protection of People with Special Needs. On May 17th, the New York State Senate unanimously passed the Protection of People with Special Needs Act S7400 in support of this center. Now it is up to the New York State Assembly to do the same.
If you have similar legislation up for a vote in your state, contact your legislators and voice your support.
We cannot sit by and say "not my child" because one day it could be.
What would you add to my Call to Action list? What lengths would you go to in order to find out what was really happening at your child's school?

Please share your thoughts.
Sincerely,
Miz Kp
*names withheld to protect parent and aide's identity